It's easy to think of a gymnasium as a boring, blah kind of place. Boxy, cavernous, and windowless.
But the modern athletic facility is anything but boring. Each has unique features and designs and needs to be approached as a custom project.
Here are four gymnasium designs brought to life with a little help from Draper:
Grand Canyon University
During the design phase of a facility for Phoenix, Arizona-based Grand Canyon University, Draper did a lot of work to ensure the building was designed for loads being placed on the structure. The structure was fairly tall, so playing courts had to be placed to prevent various pieces of folding equipment interfering with each other.
Another area made easier by Draper's pre-planning assistance is control design. Gym controls are typically located together in one area of the building. This is good for access to everything at once, but operators are often unable to see everything that is moving, which adds an element of risk. Draper recommended putting the controls where they would be needed at all times, while grouping products for quick setup of different playing configurations. The Smart Gym control system with Wi-fi and tablet interface provided the perfect tool.
Val Riess
This project was challenging because there were HVAC ducts, light bars, deep trusses, truss splice plates, and a steep slope leading to some high attachment points. Our design team had to get very creative and use several different clamps and fittings, and design cradles as tall as 18 feet to work around a lot of obstructions. Despite the high attachment points, the basketball backstops do not have any vibration issues. Draper uses all 4" OD tubing in overhead structure keeping the backstops stable even under such challenging conditions.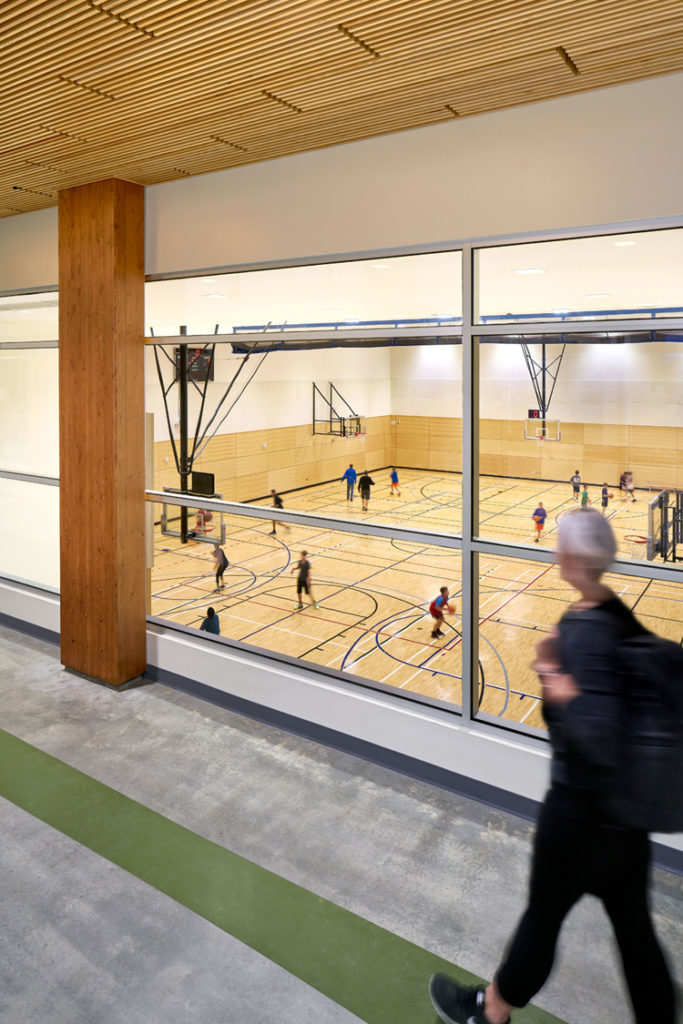 Location: Val Riess Sports Center – Chalmette, Louisiana. Photographer: Amy Barrios, Multimedia Solutions, New Orleans, Louisiana.
Delbrook Community Recreation Centre
This North Vancouver, British Columbia, facility was built on multiple levels to cope with a four-story drop across the property.
To serve as many members of the community as possible, it includes a lot of different spaces. There's a natatorium, fitness center, gymnasium, racquetball courts, an art studio, pottery studio, and meeting rooms, as well as child, youth, and senior centers.
Draper TF-20 forward-folding backstops and a Fold-Up divider are part of the overall effort to provide multiple and varied experiences in a single facility.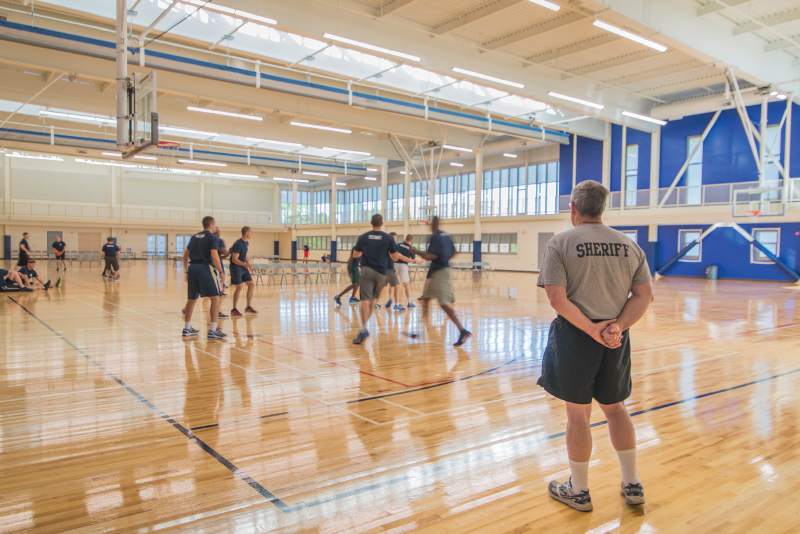 Photo courtesy Moody Nolan. Photographer: Tiffany Laschinger, Mortenson.
Penn State University Intramural Building
Penn State wanted a hub for campus recreational and social activities. They wanted the space to be a place to which students would return again and again, and that would highlight the importance of active participation in health and wellness programs.
Draper provided six TF-20 forward-folding backstops, two Roll-Up dividers and wall pads for the new gym. In addition, two Draper Roll-Up dividers and wall pads were installed in the fieldhouse and two Roll-Up dividers were installed in the existing gym. Our equipment helped planners develop fitness neighborhoods to meet the needs of various constituencies.
Whatever design you come up with, Draper has a customized answer to your needs. To find the perfect solution for your specific gymnasium, check out our website.