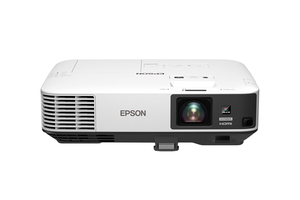 Epson Introduces PowerLite 975W Projector with Ultra-Long Lamp Life for K-12 Classrooms
New Projector Delivers Widescreen, Vivid Images and Long-Life Lamp for Reduced Maintenance and Downtime
LONG BEACH, Calif. – Dec. 13, 2016 – Epson, the number-one selling projector brand worldwide, today announced the PowerLite® 975W projector – Epson's first classroom projector to offer up to a 10,000-hour lamp life in Bright Mode1. Featuring 3,600 lumens of color brightness and 3,600 lumens of white brightness2 and WXGA resolution, the new projector delivers vivid, widescreen images, even in well-lit classrooms. It also offers enterprise-level security via an included wireless module, and teachers can wirelessly share content simultaneously from multiple devices, providing a classroom experience that is brighter and more connected.
"Technology has enabled a new breed of teaching strategies, and Epson is focused on developing cutting-edge display products that maximize image quality while minimizing maintenance and down time so teachers and students can focus on learning" said Veronika Knight, product manager, Projectors, Epson America Inc. "The PowerLite 975W introduces the latest advancements in education technology with features such as ultra-brightness for good quality display images, long lamp life in Bright Mode for minimized maintenance, wireless connection for easy projection, and screen mirroring capabilities for classroom collaboration."
Epson 3LCD projectors have 3x Higher Color Brightness than competing models3, offering extraordinary vivid image quality. The Epson PowerLite 975W offers a 16:10 aspect ratio ideal for widescreen computers or to display HD video, providing 30 percent more usable area than a regular 4:3 image and 10 percent more than a 16:9 image. The projector still offers the flexibility of displaying 4:3 and 16:9 images, as needed. In addition, teachers can wirelessly share content simultaneously from multiple devices with the Epson iProjection™4 wireless display solution, including content from Chromebooks™, PCs and Mac® computers, as well as iOS® and Android™ devices. Miracast® offers wireless HD screen mirroring for displaying a variety of content, or for comparing students' work side-by-side.
More about Epson's New PowerLite 975W Projector
The PowerLite975W provides advanced quality, performance, and flexibility for schools, with features including:
Widescreen Images – native WXGA resolution (1280 x 800) and 16:10 format
Ultra-Long Lamp Life – Epson's first classroom projector offering up to a 10,000-hour lamp life in Bright Mode1
Wireless Networking – Enterprise-level security for peace-of-mind; wireless HD screen mirroring with Miracast; display Chromebook, iOS, Android, Mac and PC screens4
Simultaneously Display and Control Multiple Device Screens – Wirelessly share content from up to four devices, including Chromebooks, using Moderator software5
Split Screen6 Feature – Simultaneously project two images (video or still) from different sources side-by-side up to 280-inches
Image Sharpness and Detail – 15,000:1 contrast ratio for added clarity
Versatile Connectivity – 2x HDMI® ports support multiple high-definition A/V devices, with MHL® support7
Remote Management – Easy network connectivity; software included
As a leader in innovation and partnership, Epson also offers the Brighter Futures® program, a unique sales and support initiative available specifically for schools. Designed to help educators select and implement the best products for their classrooms while making the most of their budgets, Brighter Futures offers special pricing, extended Epson limited warranty coverage for a total of three years, dedicated education account managers, and toll-free technical support for all Epson projectors and associated accessories.
About Epson Education Products
Designed with educator input, Epson's advanced interactive display and projector technologies make bright, collaborative learning environments a reality. Compatible with a wide range of devices and widely-used interactive software, Epson projectors make it easy for teachers to share content to engage students, no matter where they sit in the classroom. Epson's unmatched technology, service and support ensure educators are confident that high quality, bright images and multimedia are available in the classroom every day.
Availability, Pricing and Support
The Epson PowerLite 975W is now available for $1,099* through national resellers, pro audio/visual dealers, mail order, distribution, Epson.com, and the Brighter Futures program. Epson PowerLite projectors come with a two-year limited warranty (three years for Brighter Futures customers) that includes two elite technical support services – Epson PrivateLine® phone support with direct access to an expedited support telephone line, and a Road Service replacement program that includes product exchange in one business day with paid shipping. For additional information, please visit: www.epson.com/education.